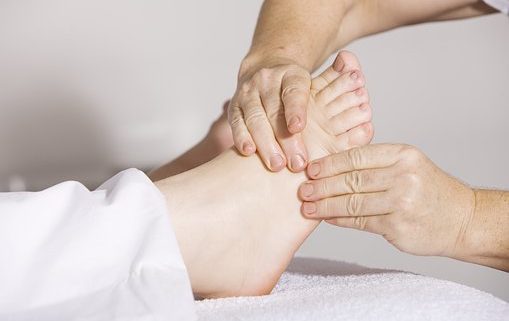 You walk on them all day, but did you know your feet do more than carry you from one place to the next? They also have a unique connection to balanced health and well-being. In a form of bodywork known as reflexology, the feet are said to contain reflex areas that mirror and connect to all parts of the body–and pressure on these points can actually influence your state of health.
Reflexology is viewed primarily as a stress reduction or relaxation technique. Using the thumb, finger, and hand, gentle pressure is applied to reflex areas of the feet in order to decrease stress and bring the body into equilibrium.
Although simplistic in application, the effects of the treatment can be profound. Through activation of nerve receptors in the hands and feet, new messages flood into the body system, changing its tempo and tone. In essence, the foot or hand becomes a conduit for sharing information throughout the body. Function in the connecting area is improved and, at the same time, the body experiences overall relaxation and benefits to the circulation and elimination systems. When the body's systems are at optimal functioning, self-healing is enhanced.
Scientific studies have documented the benefits of reflexology for a variety of ailments, ranging from reduction of pain, improvement in circulation, and release of tension, to improved effectiveness of medication, as well as benefits for diabetes and headaches.
In this sense, reflexology is not a medical treatment for specific symptoms or diseases, but rather a way to facilitate the body's inherent healing power.
https://johnfrenchlmt.com/wp-content/uploads/2017/06/16-reflexology.jpg
340
509
johnfrench
https://johnfrenchlmt.com/wp-content/uploads/2017/07/logo-4-300x138.png
johnfrench
2019-04-08 15:39:21
2019-04-16 22:19:58
Footprints for Health