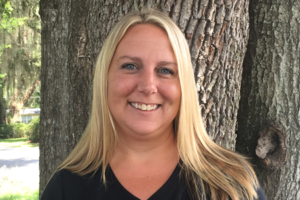 Services Offered:
Swedish
Deep Tissue/Connective tissue
Heated Bamboo Massage
Pregnancy Massage
Florida Massage License # MA87122
Dawnielle Morrill grew up in Iowa, where she spent much of her time massaging her older sister. She always knew that one day she wanted to attend massage school, but circumstances led to her becoming an optician at the age of 17. It wasn't until the passing of her father a few years ago that she decided life was too short and she began attending the Body Wisdom School in Iowa. While in school, she fell in love with the science behind massage and she was able to learn from phenomenal instructors that helped her find her own unique style. She also took a specific interest in modalities like Barefoot Bars and Sans Hands, as well as Deep Tissue Therapy where she had her first experience with listening to a client's body and waiting for the stress in their muscles  to melt away. She graduated in February of 2016 and began her massage career by working with a group of like-minded therapists. She found this to be a great experience as she was constantly learning from the therapists around her. "When you stop learning, you stop growing," Dawnielle said. Later in 2016, Dawnielle and her family moved to Florida for a change of scenery. She has a deep interest in working on clients with chronic back pain as she herself suffers from similar issues. She is excited to gain more experience by working on a variety of clients with varying issues.